Laser Printers Best Sellers in 2019
I will share what are the best seller laser printers in this article. I will also share what you should watch out for when choosing the printer. Before that, let's clear up a few key points first. Why choose laser printer when you can choose an inkjet printer?
Laser printers have remained relevant by focusing on their traditional strengths: fast print speeds and reasonable costs per page for text output. On the downside, lasers often have a significantly higher upfront cost, and they're nowhere near as capable as inkjets at reproducing photos.
So with the above in mind, lasers are better suited to bulk text output: contracts, long research papers, book drafts. If you print a lot of large jobs, and stick mostly to text and clean graphics instead of color photographs, a laser printer is the right match.
Another key point that most people missed out is … Toner cost.
Whether you use your inkjet regularly or leave it idle for weeks, you lose a bit of ink whenever you change cartridges or start up the inkjet printer and endure its cleaning cycle. However, this is the part that laser printer wins. The toner in laser cartridges isn't subject to drying and tends to last longer when left idle, and toner cartridges also tend to last for more pages than most inkjet ones. This allow reduces your overall cost in a long-run.
Now that we clear up why laser printers is still relevant. Below is the best sellers laser printer that you should look into:
Brother Monochrome Laser Printer, Compact All-In One Printer, Multifunction Printer, MFCL2710DW, Wireless Networking and Duplex Printing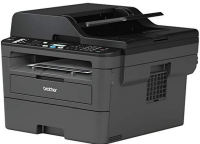 This is among the top best seller laser printers in Amazon. Definitely worth looking into.
Pros:
This is COMPACT ALL-IN-ONE built with the busy homeowner or small office owner in mind.
.
Can print pretty fast at up to 30 pages per minute with low noise level at less than 50dB
.


Easily send print jobs wirelessly from your desktop, laptop, smartphone, or tablet.
Cons:
Doesn't come with a USB cable. So if you wants to connect via USB, you must have an old one lying around the house, or borrow one from a friend, or buy one. They're very cheap and easy to come by these days.
.

The wifi connectivity instruction can be confusing at first. But once you clear it, it works like a charm.

You must go to the website at support.brother.com and download the software. They're very easy to understand. You must FOLLOW THE DIRECTIONS on their website in order to do this correctly.
Verdict:
Brother printers have been rated #1 in reliability and satisfaction by PCMag for 5 years in a row already. So you can't go wrong buying this one today.
Brother Compact Monochrome Laser Printer, HL-L2350DW, Wireless Printing, Duplex Two-Sided Printing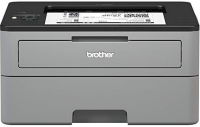 This is the best value best seller laser printer on Amazon.
Pros:
This is perfectly sized to fit on smaller desks or in tight spaces
.
This is really fast and it allows you to print up to 32 pages per minute
.

This laser printer is built with a 250-sheet paper capacity that helps improve efficiency due to less time spent refilling trays.
.

Printing on both sides is easy with automatic duplex printing.
.


The easy-to-link wireless technology allows you to submit print jobs from your laptop, smartphone, desktop, and tablets
Cons:
Does not work that well with Mac. Have to cancel the DEEP SLEEP mode to get it to work wirelessly.
.
Does not allow use of generic toner cartridges
Verdict:
This is perfect for small or home offices as a monochrome laser printer that delivers class-leading print speeds up to 32ppm along with wireless networking. Brother printers have been rated #1 in reliability and satisfaction by PCMag for 5 years in a row already. You can't go wrong at this price. Get this today!
HP LaserJet Pro M281fdw All in One Wireless Color Laser Printer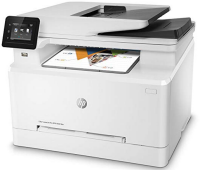 This the best selling color laser printer on Amazon.
Pros:
This can print, copy, scan, fax. All-in-One. Printing in color or monochrome as well. A nice feature for this price range.
.
This is really fast in first page out and double-sided printing.
It can prints up to 22 pages per minute black/color, first page out as fast as 10.3 sec black and 11.7 sec color.
.

Can easily print from mobile device (iOS or Android)
.


The HP Smart App allows you to easily set up your printer, scan from your smartphone, order toner, and print from the cloud such as iCloud, Dropbox and Google Drive.
Cons:
Support for OS X is lacking
Verdict:
This printer is a perfect fit a small business or home office. I have experience with many inkjet and laser printers including Brother/Canon and I have to say that this laser printer is the best value for price vs performance.
Below is the best sellers laser printer that you should look into:
Introducing the RCA 10 Pro laptop tablet with detachable keyboard. The 10 Pro operates on Android Marshmallow and showcases…
Acer Aspire TC-865-UR14 Desktop PC comes with these specs 9th Generation Intel Core i5-9400 processor 2 9GHz with Turbo…
Designed for long-lasting performance, this beautifully crafted laptop has an all-day battery that keeps you connected to work or…